---
Ok, let's be real. When your cat is the size of a small dog, you need a little bit more than the average, flimsy cat trees that are meant for cats under 9lbs.
There's no taking any chances with your cat, other pets, kids, and everyday household hustle and bustle going on. You need the best sturdy cat tree for large cats and cheap crap is out of the question.
But don't be alarmed right away. The good news is that in the long run, you will be saving a ton of money because this one tree will likely last your cat's lifetime whereas the cheap stuff you have to keep buying every couple of years.
Yes, it will pay for itself. You will get a sturdy tree that your cat will enjoy. And your home will be happy and safe.
What Is The Best Sturdy Cat Tree for Large Cats?
In general, the fast, cheap manufactured trees are not going to work when you have a large cat. Most of the best sturdy trees are handmade which is good but it also presents a  big problem.
You may find that they have difficulty keeping stock in because they are in high demand and take a little extra time to make. Some even ship fully assembled a lot of times at no extra cost.
In addition to that, they have very low review counts. As a business owner, I can relate to how challenging it is to get buyers to leave reviews.
The good news is that the few reviews they do have tend to be excellent because they truly are excellent creations.
Despite these conundrums, we've weighed the options and chose one that stands out above the rest.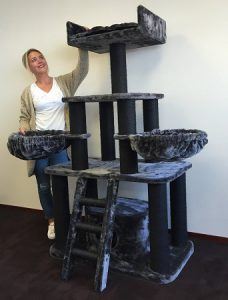 Product Name: Cat Tree King Tiger Cat Tree for Extra Large Cats, 68 in.
Size (L x W x H): 39 in (99 cm) x 24 in (61 cm) x 69 in (175.26 cm)
Cat Climbing Structure Style: Condo
Colors: Beige, Black
Levels: 4 levels
Towers: 1 towers
Ramp: 1 ramp/stairs
Condos: 1 condo, 2 basket/hammocks
Toys Included: No
Structure Material: Extra-strength ABS
Covering Material: Heavy-duty Plush
Scratching Post Material: Natural sisal rope
Type of Cats This Is For: All cats and kittens of all sizes and ages.
Assembly Details: easy assembly, manual included
Warranty: TBD
Rank: 5 out of 5 stars, 6 customer review
The Best Sturdy Cat Tree for Large Cats Summary
Cat Tree King's Tiger Cat Tree for Extra Large Cats is built to withstand anything your cat throws at it. It is built of solid wood and instead of the cheap plastic connectors that normal cat trees use, the ones in this unit use extra-strong ABS.
ABS stands for acrylonitrile butadiene styrene and what it is a super strong, recyclable thermoplastic. You might be familiar with products like Lego, computer keyboard keys, and power tool casings.
If you don't know how strong this plastic is, try stepping on your child's Lego block (which I'm sure every parent has done anyways, lol!) or drop your desktop keyboard on the floor (just a regular drop). They likely don't break and this is the same strength that you can expect to find in the plastic used in the joints of these cat trees.
Not only that but the plush covering is also extra strong. Every part of this tree's covering from the sisal rope to the plush are reinforced by being glued to the wood structure.
It is huge, stylish and comfortable. Which means that it will go lovely in your living space and your cat will be able to enjoy it while you rest assured that the tree won't fall on your cat or anyone else in the home.
Click here to learn more about the Cat Tree King Tiger Cat Tree for Large Cats, 68 in.
Benefits of Using Cat Tree King's Tiger Cat Tree for Large Cats

Oh where to begin! This tree has so many benefits for your cat and your household.
The Best Sturdy Cat Tree for Large Cats Delivers Peace of Mind
As you probably already figured, having a cat tree that doesn't shake or wobble is obviously safer for all members of your household and visitors. You will gain great peace of mind when the weight of your old wobbly tree has been lifted.
I can tell you from experience, never underestimate the power of peace of mind. When your mind is at ease you will be more productive, have better relationships with others, have a huge boost in mood and overall internal health, and more.
Cat Tree King's Tiger Cat Tree Will Substantially Increases Your Cat's Territory
Another benefit to using this cat tree is that your cat will have a large increase in its territory. This matters whether your cat is male or female. I'm not sure if you know but vertical territory, in your cat's terms, is an increase in its overall space.
By doing it you can do amazing things for your cat including:
Improve its mood
Your cat may start to get along better in your home
You may see your cat more often now that it has this new place that is its own away from threats
Give your cat peace of mind
Being almost 6ft tall, it will give your cat the vantage point it needs to feel comfortable.
The bed at the top is super comfortable so it will spend many hours there instead of undesirable or potentially dangerous places like on top of the oven hood or refrigerator.
Your cat gets horizontal room as well which will allow it to stretch out and horizontally scratch in addition to vertical stretching and scratching
Good exercise/workout
Give Your Cat Somewhere Secure and Comfortable To Lay
It goes without saying that we all like a comfortable place to rest. So seeing how this is covered with extra comfortable plush, that is a given.
However, this is even more so beneficial if you have an older large cat. More than 90% of cats over 14 will have developed some sort of joint problems.
That being said, they will be able to rest their aching joints on something cushiony instead of a hard piece of board. Just visualize that for a second and you will see which choice is the clear winner.
In regards to senior cats, I also like that this model comes with stairs which will give them easy access to climb onto it since they will likely have issues with jumping up.
How To Use The Cat Tree King's Tiger Cat Tree for Large Cats
The good thing about this cat tree is that assembly is easy and doesn't take much technical skills at all.
Once the tree is up, we always recommend that you put it somewhere along the wall because that's where cats want to be, around the edge to get the best view of the entire room.  Don't stick it in the middle and wonder why your cat isn't using it.
Once the tree is fully assembled and installed, put your cat's food bowl at the top or on one of the higher platforms where small children and dogs won't be able to reach.
If you have multiple cats, you can do this one at a time especially if they have their own specific bowls by their terms. Cats can be iffy, some are like this some aren't.
For instance, my female is possessive about her bowl but my male couldn't care less.
Don't force them on the tree. If the food doesn't get them there try putting some of their favorite toys on there.
You can also gently pick them up and introduce them to it. Feed them treats while you do this. Make them feel special and comfortable because if you feel uneasy then they will sense it and be afraid.
Personally, I've never had trouble getting my cats to use any tree and I think my approach is a big part of it. Animals have good senses but don't necessarily know what everything is that we want them to use.
So show them that the tree is their refuge and they will learn that it is that as well.
Who Is This Cat Tree For?
This cat tree is for anyone who wants the best, sturdiest cat tree for their large or extra large cat. This includes any cat that is over 16 lbs (8 kgs). Specific breeds include:
Maine Coons
Bengals
Ragdolls
Bermise
American Bobtails
etc.
This tree is also great for senior cats who have joint issues because it is so sturdy. But also because it is soft for them to lay their aching joints on and they can gain access to the tree by climbing the stairs instead of having to jump up.
What I Like About Cat Tree Kings Tiger Cat Tree for Large Cats
Stylish
HUGE!
Sturdy
Made with good quality, non-toxic, material
Coverings are glued down including the sisal rope on posts
Parts can be re-ordered as needed
What I Don't Like About This Cat Tree for Large Cats
There's not a whole lot to not like about this tree, to be honest. I know a lot of people would say that it's expensive but I disagree.
This tree is well worth the price. I personally think its a steal especially considering this huge thing is imported but costs the same as ones that are handcrafted in the USA.
If you 'can't afford it' I challenge you to look into saving up the money. I think we sell ourselves short by only looking at what we currently have in our pockets instead of what we can accumulate over time.
Even if its just $20 per pay cycle, you will be surprised how that money will add up. Also, studies show that if you save up all your loose change through the year, on average, you will have saved around $500!
That's enough for this tree and a nice treat for yourself as well for doing a good job saving!! 😉
Believe me, I know the feeling, dread, and disdain to cash out money on something especially when you really 'don't want to.'
I hope this doesn't come across as harsh. I'm truly delivering this advice sincerely with the best intentions and your cat's well-being in mind.
No matter how you look at it, this tree is the best sturdy cat tree for large cats. If you have any questions, comments or other feedback, please leave them in the comments box below and I'll get to you at my soonest convenience.
Otherwise, click the button below to buy or learn more about Cat Tree King's Cat Tree for Large Cats.
Click here to buy Cat King's Tiger Cat Tree for Large Cats