---
One thing that all cat owners should have for their cats is a cat tree. Whether you have one or multiple cats, ideally you want to have multiple cat trees.
Of course this can be a bit challenging for many reasons. You might:
have limited space
find expenses add up quickly
find cheap cost means cheap & dangerous cat furniture
want to customize your own setup
Whatever the case may be, sometimes its just better to build your own cat tree. But like a lot of projects you think up from time to time, this might seem easier than it really is.
Coming from someone who enjoys carpentry and has won several blue ribbons, there are always hard ways to go about creating things and easy ways to go about doing things. The most important factor is that we DO NOT SACRIFICE QUALITY for being hasty, lazy, cheap or a combination of reasons.
I want to show you how easy you can build a quality, sturdy, DIY cat tree without turning your life into an emotional wreck. My dad used to always say, easy is better than hard and I'm going to show you how to make this work for you and your cat.
Before starting, always practice safe habits and use all tools according to the manufacturer's guidelines. Myself and anyone on the Cat Climbing Structures team are not responsible for any damages, injuries, or other occurrences that happen as a result of your building your cat tree.
Proceed with caution and if you find you need help take one of our professionally developed DIY cat tree plans to a professional carpenter who can build it for you.
3 Steps To Build Your Own Cat Tree
Step 1: Design Your Cat Tree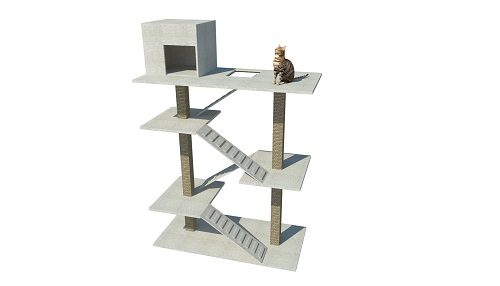 The very first thing that you need to do before getting started is to figure out what direction you are taking. To do this, you will need to come up with a design plan.
It will guide you through each step of the building process as well as show you all the materials you will need to purchase. You can sketch the design plan on a piece of paper or you could get a cat tree plan like these.
Factors To Consider When Choosing A Cat Tree Design
• Space Limitations – consider where you want to place your cat tree and then determine what size of a cat tree will fit seamlessly into that space. Take measurements of the space and record them. These measurements will guide you in making the finished product.
• Your Cat's Personality – this will determine to a large extent the design of your cat tree. If for instance, your cat likes to climb, your cat tree design should be tall with several perches. If your cat likes privacy and staying alone, your design should have privacy as a top consideration.
• Your Carpentry Skills – if your carpentry skills are not advanced, consider keeping your design simple. This way, you won't get overwhelmed.
• Availability of Homemade Cat Tree Plans – although you can find numerous Free DIY Cat Tree Plans on the internet, most of them are poorly put together, hard to understand and all-around poor quality. Finding a good quality cat tree plan is tough but they are out there if you look hard enough. We have some available here or you can chance the rough seas and try to make sense of the bad
Step 2: Buy Your Materials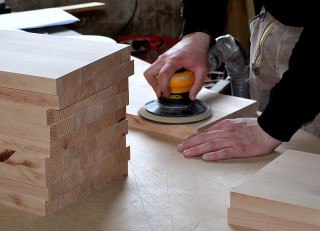 Once you have the design, you will know which materials you need. Plywood is often used for horizontal platforms while more sturdy lumber is better suited for vertical supports.
Carpet is perfect for covering the wooden surfaces and a great scratching surface that cats love.
You may also need some carpentry tools including:
a drill
wood screws
a hammer
nails
a table saw
wood glue.
etc.
Be sure to consult your cat tree plans for all of the tools and materials you need. If this is your first time building, be sure to follow all the instructions step-by-step so that you can see how all materials and tools work together.
Once you gain some experience, feel free to swap certain materials for others. For instance, you might like oak wood instead of plywood but be sure to follow the overall instructions.
Be creative but safe at the same time. YOU are responsible for your own outcomes so always take your due diligence seriously.
*Cat Climbing Structures is not responsible for any damages to you or anything related to you when you do your own projects*
Step 3: Assemble The Cat Tree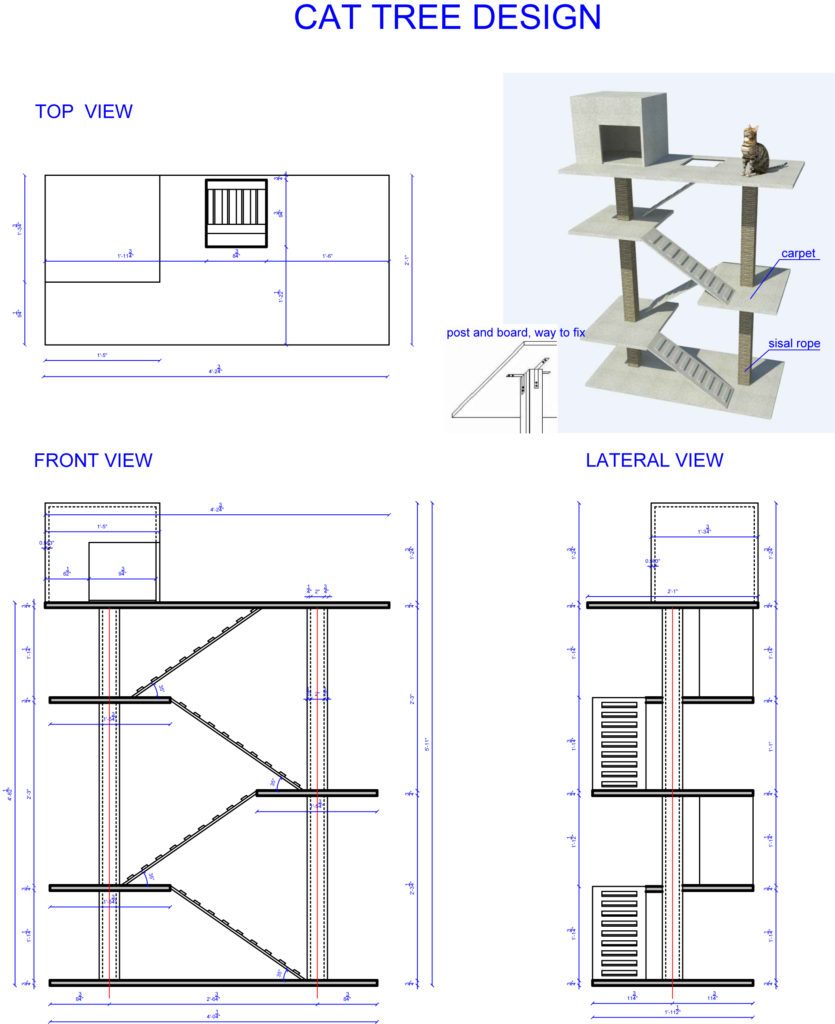 Once you have all the materials together its time for the FUN PART! Time to put everything together.
Cut the materials to size
Using your design plan, cut all your materials according to the plan. A handsaw is very effective in cutting dimensional lumber while a table saw will cut sheets of plywood easily. Use sandpaper to smooth the rough edges.
Build the cat tree base
A reliable cat tree should have a sturdy base that can keep the entire structure stable. Such a base should extend out more than any other component of the cat tree for stability. You can make the base by joining together two squares of plywood using glue thereby making the base extra thick. Taller cat trees should typically have more extensive base to maintain stability.
Cover the base using carpet
You may also use a thick upholstery fabric to cover the base. This should be done before attaching the vertical parts. Cut the carpet such that its dimensions will be a few inches larger than those of the base on all sides. Wrap the carpet over the edges of the base and use a staple gun to staple it firmly on the plywood. Ensure that the carpet folds neatly on the underside.
Attach the vertical components to the base
The vertical parts are meant to hold the platforms in place. You can use screws, nails or wood glue to attach these vertical supports to the base.
Flip the base to an upside-down position and then drill the holes you need through the underside at the exact spots where the supports will be. Wrap the supports with carpet. Attach the vertical supports by driving screws or nails into the supports through the holes. You may wrap sisal rope on the vertical supports so that the cat tree also becomes a scratching post.
Attach horizontal perches to the vertical supports
You may use wood screws or glue to attach the plywood perches to the supports. Cover them with carpet or other reliable fabric after attaching them. The carpet also covers the screws ensuring that they don't remain visible.
Refer to your design for more attachments
Refer to your design as you continue to add components. You may adjust your design based on stability needs, new ideas or discovered mistakes.
Congratulations! Now you know how to build your own cat tree in 3 easy steps.
The next phase is to get out there and do it. You can find cat tree plans right here on our site or you can find others floating around the web.
If you are ready to get started, click the button below. Feel free to ask any questions or add more information in the comments box below.
Click Here To Get Your DIY Cat Tree Plans!!