---
Wall mounted cat trees are the best cat furniture for cats because they are intricately designed structures that are off the ground and are situated around the edge of any room where cats prefer to be.
The problem is that many of the models available are not very good and even if you want to build your own, you will find that there aren't many good plans available either.
So we've looked through the available options and done the necessary research to present to you the best wall mounted cat tree for your cat. That is the Multi-level Cat Climbing Activity Center by Catastrophic Creations.
It is a kit that provides you with all the materials you will need to build your own customizable unit. It is also very easy to clean and has many benefits for you cats that we will discuss in depth later on in this review.
CatastrophicCreations Multi-Level Cat Climbing Activity Center Overview
Product Name: CatastrophicCreatsion Multi-Level Cat Climbing Activity Center
Website: CatastrophicCreations.com
Size (L x W x H): standard dimensions: 109 in. (279.4 cm) x 11 in. (27.94 cm) x 63 in (160 cm)
Color Combinations: Onyx/Natural, English Chestnut/Black, Onyx/Black, Unfinished/Black, English Chestnut/ Natural, Unfinished/Natural
Levels: Designed for you to create your levels if you want.
Ramp: has 2 ladder pieces
Structure Materials: Unfinished, English Chestnut, or Onyx wood
Covering Materials: Canvas fabric walking platforms
Scratching Post Materials: Sisal-lined pole and escape hatch
Weight Limit: Shelf plank & 16 in. hammock: 84 lbs ; 32 in  hammocks & floating sisal posts: 65 lbs
Who Is It For: Adult cats except for cave-dwelling cats.
Assembly Details: easy installation
Warranty: TBD
Rating: 5 out of 5 stars
CatastrophicCreations Multi-Level Cat Climbing Activity Center Summary
CatastrophicCreatsion Multi-Level Cat Climbing Activity Center is a fully wall-mounted cat tree system. It is a kit that you will use to use intricate, tasteful walkways for your cat to climb, play, jump and scratch.
This kit comes with well-built scratching posts and platforms that are for holding food and water trays as well as plants.
CLICK HERE TO LEARN MORE
Benefits of Using CatastrophicCreations Multi-Level Cat Climbing Activity Center
The biggest benefit to using this wall-mounted cat tree opposed to using a traditional standing one lies within your cat's own instincts and preferences.
Cats like to see without being seen. They want to pay attention without getting attention.
Cats don't like to be surprised and they don't like to be out in the open. The point is?
Your cat will feel most comfortable the closest it gets to the walls aka a wall-mounted climbing structure. You might even be surprised that you actually see your cat more than usual since it has a safe place to chill.
And a happy cat means a happy home for sure. You can also expect that s/he won't be shredding the furniture which not only saves you stress and mental juice but also hundreds or even thousands of dollars
Another benefit of using this cat tree system is that your cat will get a better workout jumping, climbing and playing on a structure that is more tree-like with varying levels and shapes to them with the spring in each platform challenging their balance and so forth.
When your cat gets a better workout, it has many of the same effects on your cat as it does on you. Some examples are:
improved mood
improved health
improved skin, fur, etc.
disease prevention
and more!
You may have seen other wall mounted cat trees on the market but what I love about this one is that it is strong even though it is on the wall. This means that you can rest assured that your cat and other members of your household are safe from it unexpectedly falling which is pretty hard to find whether buying a kit like this or building your own.
How To Use The Catastrophic Creations Multi-Level Cat Climbing Activity Center
This cat tree system is mounted to the wall with studs. You have to fully install it so some technical skills are required.
But the instruction manual is super clear and easy to follow that even if you're not the best DIY'er, you'll be able to fix it. If not, you can always hire someone to install it for you which will save you time, stress and money because if you mess up something, it can be costly depending on what it is.
Don't worry, we all have our strengths and weaknesses 🙂 And at the same time, with practice, you will get better. Just try and see what happens 😉
Once the studs are up, the wood bards are secured to them. And the canvas platforms are held by the wood bars.
The instruction manual tells you all of the measurements and apart from what comes in the kit you will need a:
Stud Finder
Pencil
Level
Drill
7/64″ Drill Bit
3/16″ Drill Bit (for Drywall Anchors)
Phillips Head Screwdriver and/or Bit Self-Drilling Toggle Anchors
Hammer
Catastrophic Creations Multi-Level Cat Climbing Activity Center Features and Description
handcrafted, sleek design
sturdy and high weight capacity

shelf, planks, and 16″ hammock section = 84 lb limit
32″ hammock and floating sisal posts = 65 lb limit

standard dimensions: 109 in. (279.4 cm) x 11 in. (27.94 cm) x 63 in (160 cm)
Available colors: Onyx/Natural, English Chestnut/Black, Onyx/Black, Unfinished/Black, English Chestnut/ Natural, Unfinished/Natural
Materials made with:

Unfinished, English Chestnut, or Onyx wood
Canvas fabric walking platforms
Sisal-lined pole and escape hatch

Elevate dining area
Safe space and climbing outlets
Plant holding platforms
Modular system
Floating shelf design
Very customizable
Easy installation
The box includes:
258" Canvas fabric
4-ft Vertical sisal-lined pole
18" Sisal-lined escape hatch
8 Mounting planks
2 Ladder pieces
Pots for plants (but actual plants are not included)
Who Is This For?
This is for anyone looking for the best solution for their cat(s) health, well-being, and behavior/instincts. It is more interactive than traditional cat trees and with their easy to modify designs, you can continuously change up the design so that your cat doesn't get bored of the same structure.
In addition, it is especially a great option for large cats because it is extra sturdy and has very high weight limits even for being a wall-mounted cat tree. That means that this unit can even hold multiple large cats at once without issue.
It is also for people who may be experiencing behavioral issues with their cats. Because cats are so deeply rooted in predatorial instincts and resistant to training or conformity, sometimes if they don't get the proper activity the unreleased energy can present itself as bad behavior.
When it comes to your cat, it is important that you understand them as such. Their needs are those of cats and activity is a really big part of cat culture.
So by giving them a structure that gives them their space to get their energy out while being engaged in what they love to do really makes a big difference in the same way it does when you get to do things that you love to do.
Why Do I Call This One The Best Wall Mounted Cat Tree?
This might sound cliche to say but this cat tree is just plain awesome. Here are the facts.
If you've done any amount of research in the cat tree space, in general, you'll find that the majority of them are just not good. And it gets even worse as you learn more about what your cat really needs.
This was one of the biggest reasons that I started this site in the first place was because I couldn't find any good trees and I want to help you find and show you the GOOD ones in the sea of garbage.
I mean, you can drop a couple hundred dollars on a tree that is a piece of junk and your cat hates it. Then guess what you have to do next?
Cough up another couple hundred dollars on something else until you find something your cat STILL might not even like. I know, it's frustrating.
That being said, there are many videos and reviews of people showing their cats using and enjoying this unit. Even cats who seemed to 'NOT like climbing the cat tree'. Why?
Because as I mentioned, this takes care of your cat's needs and looks amazing to it because it takes into account what its instincts drive it to do.
I also love the design. Instead of screaming 'cat tree on my wall', it whispers 'decorative piece of wall art'.
This thing is also super easy to clean AND the platforms are removable and washable!
Not only are the finishes perfect but you can also add cat-friendly plants that will add a uniquely beautiful touch that you and your cat will enjoy. In case you're wondering, here are a couple of awesome ideas: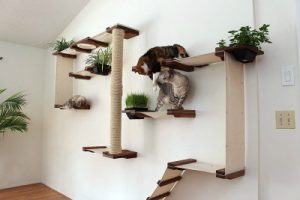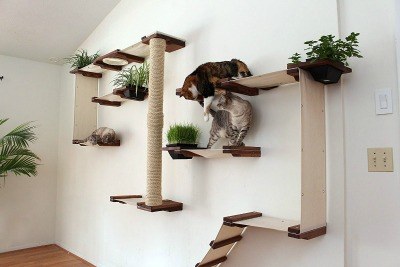 cat nip
cat grass
lemon button fern
spider plant
As you can tell, I love this unit. So without taking up too much of your time, I want to leave you with this last comment.
The versatility of this structure is AWESOME! It is suitable for just about every cat type there is whether it be a large cat, senior cat or small cat. It is also suitable for multiple cats, small spaces like apartments and more!
The value you get from this unit is worth more than this unit costs. Also, the Catastrophic Creations brand itself has so many other models that if you have to choose a smaller one, for now, you can do that and still be able to experience top-notch quality.
What I Don't Like About This Wall Mounted Cat Tree
I can honestly say that there's not a whole lot to dislike about this unit. The price point is high but the good news is that you can buy smaller versions for much less.
You'll just be spending more in the long run but what works for your budget works. At the end of the day, the money isn't the important thing.
Your cat's well-being is. And when you really sit down and calculate it, you will also be saving money in the long run because you:
won't be buying cat trees every couple of years

Math: Average cat lives 16 years. Cheap trees don't last more than 2 years and cost roughly $150.

So divide 16 by 2 you get 8.
8 times $150 is $1200

So you see, if you get a cheap tree you see that you've already racked up a thousand dollar bill and that's without the furniture your cat keeps destroying.

won't be replacing furniture as often
Cat Climbing Structure's Final Verdict
Is This Really The Best Wall Mounted Cat Tree?
Our final verdict is that this really is the best wall mounted cat tree on the market. Its handcrafted, sturdy and built with top quality material.
The design is versatile so even if you don't like the instruction's setup, you can customize it to something else you like. Catastrophic Creations make it super easy to install this unit too.
Cleaning it is easy as well which is something you can struggle with most other cat tree setups.
And best of all, its perfect for just about every cat setup you have whether you have multiple senior cats, large cats, or a mix of different types, this cat tree is built to take on the challenge.
I hope that this review has helped open you to a new world of possibilities to accommodate your cat whether you have a big home or a small apartment.
If you have any questions, comments or other feedback, please leave them in the comments box below. To buy the Catastrophic Creations Multi-Level Cat Climbing Activity Center, click the button below. Enjoy! 🙂
Buy The Catastrophic Creations Multi-Level Cat Climbing Activity Center Now!